Here is the Fed chairs announcement:
The Story via CNN.COM:
NEW YORK (CNNMoney) — The Federal Reserve announced plans to unleash more stimulus Thursday, in its third attempt at a controversial program to rev up the U.S. economy.

The policy, known as quantitative easing and often abbreviated as QE3, entails buying $40 billion in mortgage-backed securities each month. The end date remains up in the air, as the Fed will re-evaluate the strength of the economy in coming months.

The Fed is wasting no time. The purchases begin Friday and are expected to add up to only $23 billion for the remainder of September.
The bond-buying policy "should put downward pressure on longer-term interest rates, support mortgage markets, and help to make broader financial conditions more accommodative," the Fed's official statement said.

Meanwhile, the Fed will continue its existing policy known as Operation Twist. Together the two programs will add $85 billion in long-term bonds to the Fed's balance sheet each month.
Now what effect will this have on our money supply?
Ryan W. McMaken writing over at Lew Rockwell's blog correctly observes:
The effect of this will be:

Even less saving going on than is happening now. Why do the lending institutions need more liquidity? Because there are no real life loanable funds in the first place. No one is putting money in depository institutions, for example, because interest rates are at rock-bottom levels, but also because people have no excess money to save. So, the Fed is creating fake loanable funds through the purchase of the MBSs. Much of this will probably be newly-created money.
It will maintain the focus on consumer spending rather than investment. The idea is to keep people spending on real estate. Thus, less will be spent on business investment.
People will incur more debt.

We've heard for years from some incorrigible economists that what we need is the Fed to pump up the real estate market to get people spending again. Their answer is: more debt, more spending, less savings and investment.

This is what has been happening for years to no avail, of course, and the Fed is now just turning it up a notch. I'm sure recovery is right around the corner.

The definition of insanity/Keynesianism: Doing the same thing over and over and expecting a different result.
A-farking-men. This is what happens, when you elect the same very idiots, who screwed the housing markets squarely into the ground. People that voted for this sort of Government, get exactly what is coming to them and the sort of Government that they voted for. Who the heck ever heard of printing money, that you do not even have to print? It is the textbook case of utter insanity.
I will say this; if Mitt Romney loses this election and the way recent events have turned out, he just might lose —- and this Nation goes into the crapper, because Conservatives and the Republican Party decided to pick a safe candidate. Then the Republican Party should be shut down for good and a new Conservative Party formed. Others have said it, I know and they are absolutely correct.
This stuff right here is the very reason why I hung it up with the Democratic Party and stopped voting for them and supporting them. I am not a millionaire or even someone with any sort of money at all. Hell, I have been unemployed for 8 damned years. However, I do know stupidity, when it see it; and it is on full display here. Only insane people would do stuff like this, and try to rev up the economy. The solution is to let the free-market work and do its job, not stick a statist finger in it.
Also too; as much as I am not a big fan of weaving ads into my blog postings. I believe this one is important. This would be a good time as any to get into Gold, Silver and other metals. I deal with two companies that sell the stuff. Their banners are below and they both come highly recommended.
They are:
and…: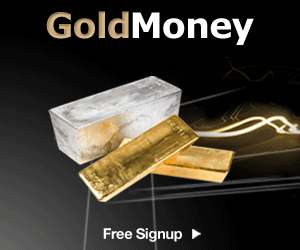 Current Prices:
It would be absoutely insane not to get into at least some sort of Gold or other precious metal investment.
Others: Michelle Malkin, Newsy, Guardian, LewRockwell.com Blog and Real Time Economics – Blogger Roundup at Memeorandum.com